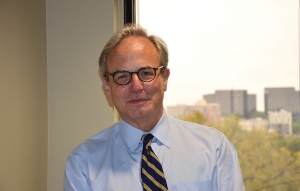 Irwin Kuhn brings over 25 years of wide-ranging legal and mediation experience to Venick, Kuhn, Byassee, Austin & Rosen, PLLC law firm in Nashville. He is rated AV by Martindale-Hubbell, its highest rating, which is based on reviews by fellow attorneys. For the past several years, Irwin's primary focus has been on handling family law cases including divorce law and post-divorce matters. While he handles all sorts of family law matters, his emphasis is on helping guide clients through a difficult process efficiently and without adding unnecessary conflict. His past experience handling small business litigation is helpful in understanding financial issues often at the core of family law matters.
Irwin was also among the first Tennessee lawyers to be trained in collaborative family law practice. As a collaborative lawyer, Irwin works with the other party's attorney in an effort to resolve family cases fairly with minimal intervention of the court. Irwin is a founding member and the immediate past President of the Middle Tennessee Collaborative Alliance. He is also a member of the American Bar Association Committee on Collaborative Law, the Tennessee Bar Association Subcommittee on Collaborative Family Law, and a member of the International Academy of Collaborative Professionals. He has spoken about collaborative practice to groups of lawyers, financial professionals and mental health professionals in Nashville and Memphis. His articles on collaborative family law have appeared in the Nashville Bar Journal and the Nashville Tennessean.
Mediation is an important focus or Irwin's practice. He was first certified as a Tennessee Supreme Court Rule 31 mediator in January of 1998 in general civil cases. In 1999, he received additional certification in family law cases.
Irwin Kuhn is a lawyer native to Nashville. He received his undergraduate degree from Vanderbilt in political science and history. Irwin received his law degree from Benjamin Cardozo School of Law in New York and was admitted to the Tennessee bar in 1984. Irwin worked as a legislative assistant and speech writer for Senator Jim Sasser in Washington, D.C. where he focused on legal matters before the Senate Judiciary Committee, and the Committee on Commerce, Science and Transportation. Shortly after returning to Tennessee, Irwin served as a law clerk to Justice William J. Harbison on the Tennessee Supreme Court.
Irwin was later an associate in the litigation section of Harwell Martin & Stegall (now known as Harwell Howard Hyne Gabbert and Manner). From 1992 to 2004, Irwin worked with Eisenstein Moses and Mossman, where he was the managing member from 1997 until 2002.
Irwin was one of three finalists selected by the Tennessee Judicial Selection Commission to fill a vacancy in the Circuit Court that handles family matters in Nashville. Irwin is a Founding Member of the Tennessee Association of Professional Mediators and is a member of the American, Tennessee, and Nashville Bar Associations. He is a member of the Board of Directors and Executive Committee of the Nashville Bar Association. He is a Fellow of the honorary Nashville Bar Foundation. He is a member of several sections of the three bar associations, including the family law and alternative dispute resolution sections of each.
Irwin is past President of PEACE, an organization combating domestic violence. He is also a former President of the Nashville Ballet, and Vice Chairman of the Metropolitan Human Relations Commission. Irwin is a former member of the Board of Trustees of University School of Nashville.
Irwin served on the transition team for Nashville's Mayor Karl Dean.
Irwin and his wife Diane have three cherished children.